CAPTIVE DESIRE
Willow Winters
Release Date: October 3
From USA Today bestselling romance author Willow Winters, comes an unexpectedly hot standalone with two alphas and one human mate. Get ready for a fast paced and steamy paranormal novella in the To Be Claimed world that romance readers can't stop raving about.
We tracked her down, now we're keeping her.
After all she is our mate…
We're the twin Alphas of Dark Valley, opposite in almost every way but both of us are shocked that we share a mate… and that she's human. I have no idea how this pretty little woman could handle one of us, let alone both. When lust turns to obsession, neither of us will be able to fight the pull to her and I'm not sure either of us will be willing to share.
She never could have known what searching for answers about shifters could lead to and neither could we. Now the only thing she'll be learning is who she belongs to.
If you enjoy sexy, alpha werewolves and standalone, insta-love stories, complete with a happily ever after, this book is for you.
Grab Your Copy!
Amazon: https://amzn.to/3PXbnrJ
Apple Books: https://apple.co/3rdgXxw
Kobo https://bit.ly/3Pvdra0
B&N https://bit.ly/45dkCJy
Google Play https://bit.ly/46gmWAJ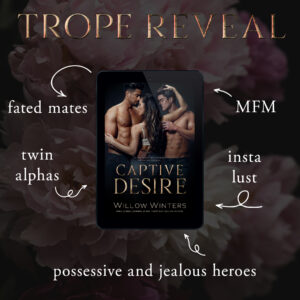 Meet Willow Winters: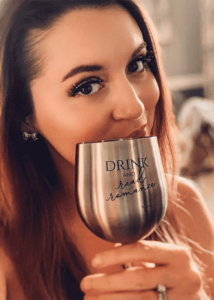 I started writing after having my little girl, Evie, December of 2015. All during my pregnancy with her I read. I only wanted to read romance novels and I read everything I could get my hands on. I would read a book a day — sometimes two. In January I was staying up late with her and just thinking of all these stories. They came to me constantly. I finally sat down and just started writing. I always wanted to do it so I figured, why not?
I never thought I would reach this point of success to be honest. It's insane to me that I have connected with so many readers.
And I love each and every one of them for all of their support. I'll be honest, some days are HARD. I have my littles during the day and I write at night. Some days are just simply exhausting and then I hear from a reader and it motivates me to push through and keep writing. I couldn't be more grateful for this wonderful career.
For more information, visit https://www.willowwinterswrites.com/
Keep up with Willow Winters and receive your FREE copy of one of her books when you subscribe to her newsletter: https://amazon.us12.list-manage.com/subscribe?u=834d325bbd80ac18effdcedc2&id=89031fa388
Connect with Willow Winters: wwinters@willowwinterswrites.com
Hosted by: