DOUBLE PUCKED BY LAUREN BLAKELY
Release Date: June 5th
Genre/Tropes: MFM / Roommates to Lovers / Fake Dating / Hockey Romance / Why Choose Style / Rom Com
Complete standalone!
DOUBLE PUCKED by #1 NYT bestselling author Lauren Blakely, is NOW AVAILABLE!
Make sure to grab this all-new Hockey MFM Roommates to Lovers romance TODAY!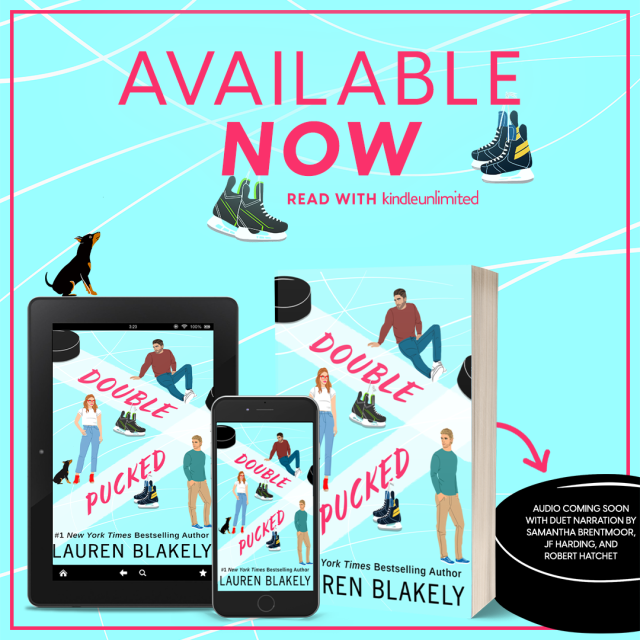 Double Pucked is Free in KU!
The spicy hockey rom-com of your dreams!!
http://blkly.pub/AmazonDoublePucked
BLURB:
A jilted book nerd, a plan for sweet revenge, and the two hockey stars who volunteer as her tributes...
When I discover my boyfriend is cheating on me, I move out right away taking what I love most – my dog. As I fly out the door, I make sure to swipe the thing my ex loves best. The VIP tickets he won to a hockey game, complete with the chance to spend an evening with the city's two biggest NHL stars.
I can't wait to snap selfies with my ex's idols and rub it in his face.
Except, when I head out with the two hockey studs, they have something else in mind besides sweet revenge. Would I like to spend the night…with both of them?
Talk about the VIP experience. That's what I get for one knee-weakening, sheet-grabbing night. In the morning, I plan to return to my bestie's house to crash on her couch with my dog.
But when they learn what happened with my awful ex, they ask me to be their temporary roomie for the week. Oh, and one of them needs my help with his grumpy reputation. The other? Well, he wants me to be his fake date at an upcoming wedding.
Looks like I'm about to get double pucked. Again.
Double Pucked is a roomies to lovers, fake dating, image makeover, super spicy hockey rom com with a guaranteed why-choose style HEA! No swords cross. The two guys are all about HER all throughout! This story is perfect for fans of Lily Gold and Emily Rath!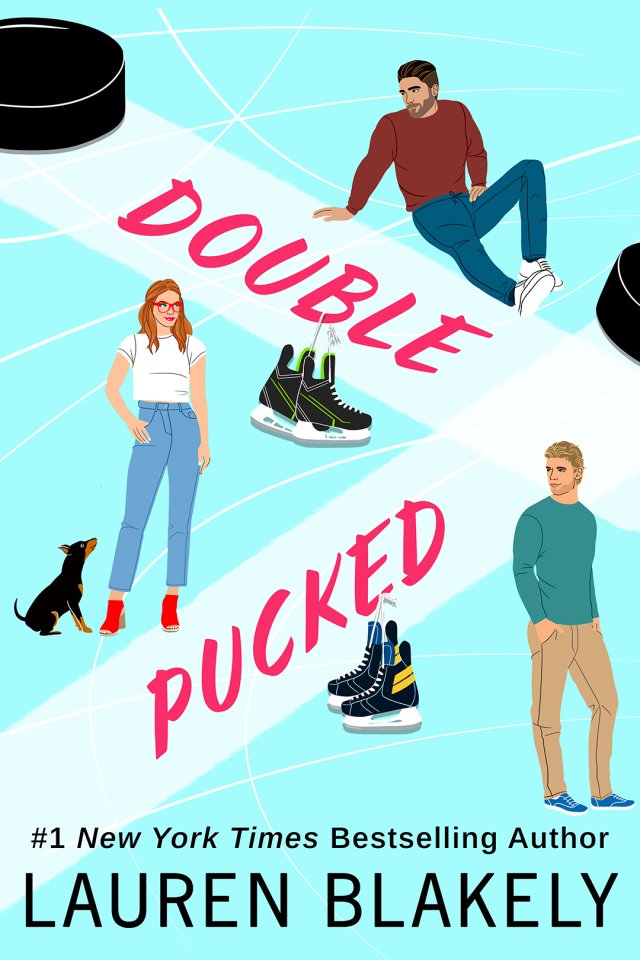 3.5 Heart Review by Ashley
I'm the first to admit I love me a little MFM action. Throw a fun (but not sinister) revenge plot into the mix and it was exactly how I found myself reading Double Pucked.
I liked Trina. She was strong willed and not going to let anyone hold her back. That includes cheating, sleazy boyfriends. Which is exactly how she found herself face to face with the best friend hockey duo of Ryker and Chase. These two guys couldn't be more opposite if they tried. But the one thing they did have in common was their mutual attraction and respect for Trina.
I really liked how these two uber competitive guys were so willing to share when it came to Trina. They set aside their ego and made sure she was taken care of in every sense of the word. And somewhere along the way of the week they were supposed to be spending together, deep and meaningful feelings developed. But when a blast from the guys past resurfaced, things got messy. In an effort to protect each other, sacrifices were made and hearts were hurt.
There was so much uncertainty and so many questions that I honestly had no idea how it was all going to shake out. But with Lauren Blakely's signature steam and sass, Ryker, Trina and Chase's unlikely romance is proof that revenge is a dish best served sexy with a side of love.
About Lauren Blakely:
A #1 New York Times Bestselling, #1 Wall Street Journal Bestselling, and #1 Audible Bestselling author, Lauren Blakely is known for her contemporary romance style that's sexy, sweet, and witty. She also writes USA Today bestselling LGBTQ romance.
With fourteen New York Times bestsellers, her titles have appeared on the New York Times, USA Today, and Wall Street Journal Bestseller Lists more than 100 times, with more than 65 titles on the USA Today Bestsellers list alone. She's sold more than 5 million books. A Brown University graduate, Lauren likes dogs, cake and show tunes and is the vegetarian at your dinner party.
Connect w/Lauren:
Website: laurenblakely.com
NL Signup: http://laurenblakely.com/newsletter
Facebook: http://www.facebook.com/LaurenBlakelyBooks
Instagram: http://instagram.com/laurenblakelybooks
Twitter: http://twitter.com/LaurenBlakely3
Tik Tok: https://www.tiktok.com/@laurenblakelybooks