THE SWEET SPOT by Adriana Locke
Release Date: 11/29/2022
Genre/Tropes: Single Mom, Baseball Pro, Small Town Romance
THE SWEET SPOT by USA Today bestselling author Adriana Locke is NOW LIVE!
Grab this all-new small town romance TODAY!

NOW AVAILABLE! FREE IN KU! https://geni.us/TSSpot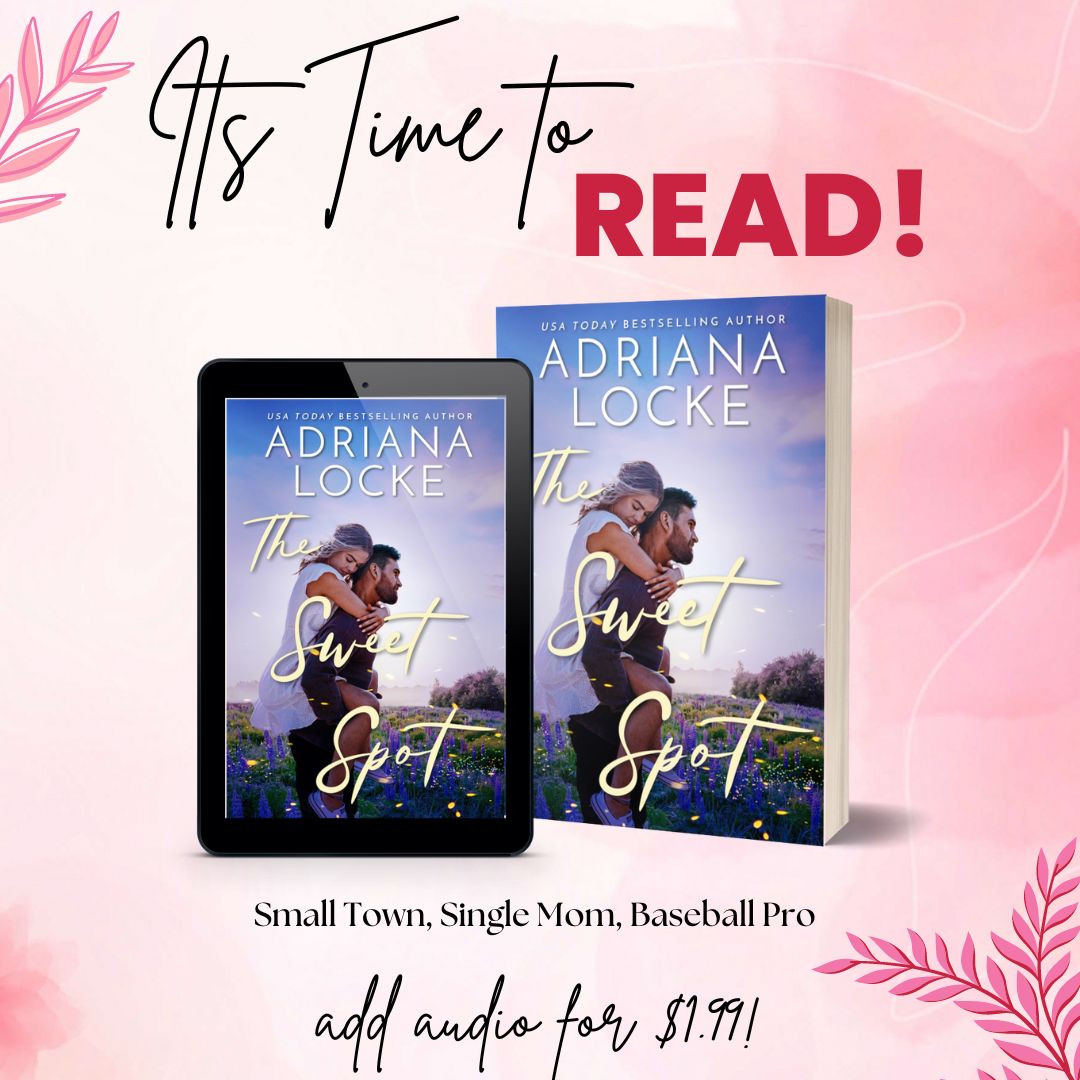 Add to Goodreads: https://www.goodreads.com/book/show/60806368-the-sweet-spot
Blurb:
She wants forever. He plays it day by day. They're both wishing for the best in USA Today bestselling author Adriana Locke's charming and sexy hopefully-ever-after romance.
Single mom Palmer Clark will not be sidelined by the new man in town. Sure, the honey-tongued baseball legend is gorgeous, loves puppies, and has charmed his way into the community's heart, but Palmer craves stability. Nothing about Cole says forever. So why is he so hard to resist?
Cole is swinging through town to visit his parents when he meets the kind of down-to-earth distraction he's been looking for since retiring from the majors. True, his long-term relationship score is zero. But even though raising his average with Palmer seems impossible, it's worth a shot.
As promising as the summer nights are, fate turns small-town dreams upside down, and some lessons are learned the hard way. But having faith in love and choosing hope over fear might get Palmer and Cole to the sweet spot they're looking for.
4 Heart Review by Ashley

I love a single mom. I love an athlete. Make it an Adriana Locke small town romance and you have the recipe for a happy heart. What I wasn't expecting was The Sweet Spot to get me in the chest quite like it did. Talk about an emotional roller coaster.

I really liked Parker. She was hard working and honest. Loyal and dedicated to her son. She didn't have time or energy to waste or anything that wasn't going to last. Even Cole, the former ball player who waltzed into town with all his charm and sexy swagger and confidence.

With a chemistry as undeniable as theirs, it was only a matter of time before they gave into what they wanted. It wasn't just the connection between the sheets. It was also the care Cole took with Ethan, Palmer's son, that made her (and me) melt. But life wasn't on their side. He was always going to leave and she needed something permanent for herself and her son.

My goodness! Talk about a gut punch. The turn this took in the final quarter made me nervous and had me reading as fast as my eyes would allow. I had to know what would happen, to see if these two would get out of their own way... Full of playfulness and hope, sacrifice and heart, Palmer and Cole's whirlwind romance is proof that home is where your heart is.
About the Author:
USA Today and Washington Post bestselling author Adriana Locke lives and breathes books. After years of slightly obsessive relationships with the flawed bad boys created by other authors, Adriana has created her own.
She resides in the Midwest with her husband, sons, and two dogs. She spends a large amount of time playing with her kids, drinking coffee, and cooking. You can find her outside if the weather's nice and there's always a piece of candy in her pocket.
Connect w/Adriana:
Website: https://adrianalocke.com
Facebook: https://www.facebook.com/authoradrianalocke
Facebook Group: https://www.facebook.com/groups/booksbyadrianalocke
Twitter: https://twitter.com/authoralocke
Instagram: https://www.instagram.com/authoradrianalocke
Goodreads: https://www.goodreads.com/author/show/8379774.Adriana_Locke
Amazon: https://amzn.to/3ivy7xd
Bookbub: https://www.bookbub.com/authors/adriana-locke
Newsletter Signup: http://bit.ly/NewsletterAddy