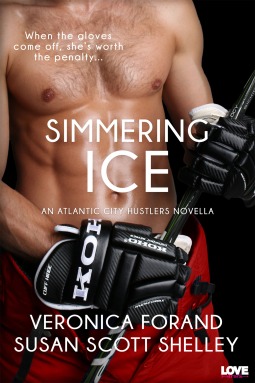 Physical therapist Annie Davidson is great at her job but unlucky when it comes to love. She's just out of a bad relationship. A really bad relationship. All she can do is focus on work...that is until she runs into professional hockey player Alec O'Meara. She's a touch insecure and doesn't understand why he's interested in her.
Despite being one of the biggest players on the team, right winger Alec O'Meara prefers finesse over force. After the tragic death of his wife, he likes to keep things loose on and off the ice. But the red-headed Annie challenges his beliefs and makes him think about taking their relationship to the net.
The passion and fun they share is addicting and makes them long for more. But her insecurities that she's not good enough, and his anxiety over a long-term commitment will keep them apart, unless they can find a way to break through the defenses they've built around their hearts.
About the Authors:
Susan Scott Shelley
Susan Scott Shelley is an award-winning author of contemporary romance and romantic suspense who spends her days writing about tough heroes, smart heroines, and love being the strongest magic there is.
For as long as she can remember, she has been in love with Love, and the sweeping grand gestures, heart-sighing moments, fiery passion, and quiet comforts it entails.
In addition to writing romances, she is also a profession voice over artist. Her favorite things include running, sports (especially football and hockey), hard rock and old Hollywood movies. She resides outside Philadelphia with her very own Superhero and believes life should be lived with laughter, enthusiasm, and a sense of wonder.
Stalk Susan Scott Shelley
Veronica Forand
Veronica Forand is an attorney and an award-winning writer of romantic suspense. She's lived in Boston, London, Paris, Geneva, and Washington, DC and currently resides near Philadelphia. An avid traveler, she loves to roam across continents with her husband and kids in pursuit of skiing, scuba diving, and finding the perfect piece of chocolate.
She's lived in London, Paris, Geneva, Washington D.C., and the accent destroying city of Cleveland. She currently resides near Philadelphia.
Stalk Veronica Forand: