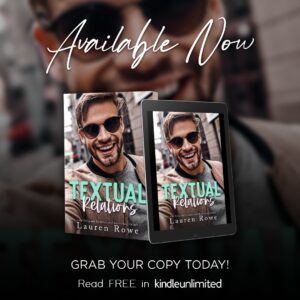 TEXTUAL RELATIONS
Lauren Rowe
Release Date: September 22
FREE IN KINDLE UNLIMITED
Grayson McKnight
I haven't been having much luck on the dating scene lately, ever since my breakup with my longtime college girlfriend. I thought being twenty-five and single would be a blast, but dating apps are trash and I've managed to get nothing but three fake numbers at my favorite bar.
Thankfully, the actual owner of the third fake number was kind enough to reply to let me know I'd texted the wrong number. She was warm and open and expressed curiosity about the fake number I'd been given, so we got to texting. She gave me some flirting advice, so I can get a real number next time. But she was so hot when dispensing her advice, and also so kind, I saved her as Hot Teacher in my phone and mustered the courage to ask her for drinks tonight. Not to get more advice, but to persuade her to give me a shot herself. And she said yes. Well, actually, she said maybe. But I honestly think she's coming.
Sight unseen, I'm already far more attracted to Hot Teacher than anyone I've met on the dating scene, so I'm going to pull out all the stops tonight, if she comes to the bar. The thing is, I might be shy and terrible at flirting, but if Hot Teacher gives me a shot, I'm pretty confident I'll be able to surprise her behind closed doors. I've been studying up so diligently since my breakup, in fact, I'm pretty damned sure I'd be able to blow her beautiful mind, if only she'll give me the chance.
Textual Relations is a steamy older woman/younger man romantic comedy that will make you laugh out loud, fan yourself, and swoon your way to Grayson and Selena's happily ever after.
NOTE: Portions of the full-length novel, Textual Relations, originally appeared in Lauren Rowe's much shorter novella, Wrong Number, Right Guy, that was only briefly available.
Grab Your Copy! https://www.amazon.com/dp/B0CHH4CRBT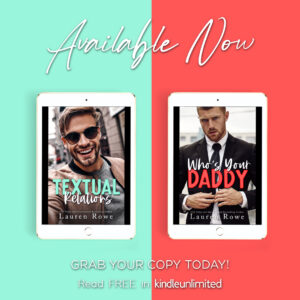 Meet Lauren Rowe:
Lauren Rowe is the USA Today and international #1 best-selling author of bestselling Standalone Smitten, The Reed Rivers Trilogy, as well as The Club Trilogy, The Josh & Kat Trilogy, The Morgan Brothers Series, Countdown to Killing Kurtis, and select standalone Misadventures.
Lauren's books are full of feels, humor, heat, and heart. Besides writing novels, Lauren is the singer in a party/wedding band in her hometown of San Diego, an audio book narrator, and award-winning songwriter. She is thrilled to connect with readers all over the world.
To find out about Lauren's upcoming releases and giveaways, sign up for Lauren's emails here!
To learn more about Lauren Rowe & her books, visit here!
Connect with Lauren Rowe: lrowebooks@gmail.com
Hosted by: